Paw Prints Dog Walking Service in Brighton and Hove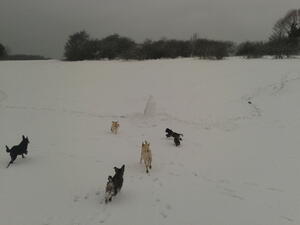 Paw Prints Dog Walker Service in Brighton and Hove is designed to keep your dog healthy, active and stimulated when you aren't there.
Dog walks last a minimum of one hour and we walk whatever the weather.
We will pick your dog up from your home or your place of work in our professionally fitted dog walker van.
Including pick up and drop off your dog could be in our company for up to three hours per day!
We will always settle your dog back in and ensure they have fresh water and of course they will get a towelling down to avoid any muddy paw prints on your carpet!
Paw Prints is an approved supporter and member of Brighton & Hove City Councils Professional Dog Walkers Code of Conduct.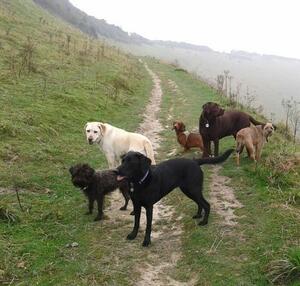 Where Paw Prints Walks Your Dog
It is Paw Prints policy to walk your dog in safe environments away from traffic and other disturbances.
Our dog walks are usually based on the South Downs, in places like Devils Dyke and Ditchling Beacon. Alternatively we do dog walks in Stanmer and Wild Parks in Brighton as well as on the coast, especially in warmer conditions.
Dog Walking to Suit You and Your Dogs Needs
A number of our customers who have energetic dogs choose to have their dogs stay in company over both the morning and afternoon walks. This ensures even the liveliest hound is settled and tired by the time their owner comes home.

Paw Prints dog walking is done off the lead as long as we have had signed permission from the owner to do so. We feel dogs are happiest on our walks when they have the freedom to play with the other dogs and explore the beautiful surroundings. All dogs wear tags bearing our names and contact details whilst out on our walks.

Dog Walking
Monday - Friday
Weekend / Bank Holidays

1 dog

£12

£15

2nd dog from same household

£8

£10

Two walks per day


£20

n/a

* SPECIAL OFFER FOR DOG WALKING MONDAY - FRIDAY INCLUSIVE - £55 *